Whether you work in an office or your home, a change of pace and scenery is key to staying productive. When you need to step away from the familiar (and don't want to commit to a co-working space) consider these 10 alternatives to working at your desk.
1. Try another room
A change of scenery does not have to be drastic. If your usual workspace is blocking your productivity, simply move to another room: spread out in an empty meeting space, sit at the dining table or stand at the kitchen bench. You'll feel like you're in a new place without having to go very far.
2. Head to a coffee shop
This is hardly a radical suggestion, but there is real value in working from a café. It gives you the opportunity to meet new people, engage with your community and network. Even in today's digital world, networking is critical to gaining exposure, getting new ideas and finding opportunities.
Don't just settle for your local Starbucks. Use WorkFrom to help you discover the best work-friendly places in your city, and check out FourSquare for curated lists of good places to work.
3. Try your local library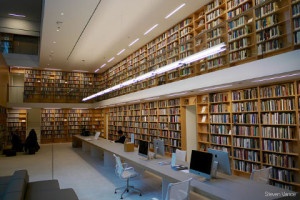 This is a particularly good option if you need silence to get some work done. Most libraries have a no-phone rule, free Wi-Fi and ample seating space. Plus, you can take a break and surf the stacks to find some inspiration.
4. Go to a museum or gallery
Depending on where you live, a museum or a gallery can be a great place to work. Larger institutions tend to have cafes, Wi-Fi and plenty of places to sit and be productive. There's also the added bonus of being surrounded by beautiful, interesting things. In London, the Victoria & Albert Museum has free entry and internet access, not to mention a great café.
5. Visit your alma mater (or any university)
You don't have to be a student to step foot on a campus. Universities usually have good work-friendly cafés, seating areas and open-access libraries with plenty of plugs to charge your laptop. Be aware of the season though – desk space can be at a premium during exam time (which falls around May – June in the spring semester, and November-December in autumn.)
6. Try a chain or fast-food restaurant
Hear me out: places like Pret A Manger, McDonalds and Starbucks usually have lots of seating, free Wi-Fi and good parking. They might not be the most glamorous places to get work done, but they're practical.
7. Go outside
Research has shown that exposure to nature and the sound of the outdoors, whether through windows or direct experience, has a significant impact on work performance, attentiveness and emotional wellbeing. If the idea of working in a park or garden doesn't appeal to you, at least consider going for a walk to clear your head.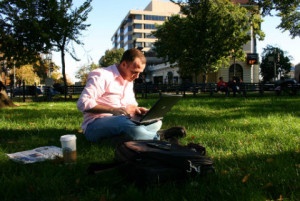 8. Hot-desk
Most people like to feel comfortable in their own space, so many of us don't think about hot-desking when we need a change of scenery. However, swapping desks (or home offices) with a co-worker might just be the change you both need.
Can't find someone to swap desks with you? Consider renting one in a shared office space for the day. This can be an expensive option, but it's a good one if you want a change but still need the structure of an 'office environment'.
9. Hop on the train
If you have a long commute to work, need to travel to appointments, or have been meaning to visit your family, buying a train ticket and taking your work on board can be productive.
Many UK train operators offer internet access, and the physical limitations of public transport can encourage you to focus on the 'busy work' that often gets put off. A long train journey is the best time to answer emails, review to-do lists and catch up on general 'life admin' tasks.
10. Head to the airport
Airports are becoming more like shopping centres and they make for stimulating work environments. There's the bustle of travellers, a variety of places to sit (with views of the tarmac, if you're into that) and most terminals now have Wi-Fi and 'charging stations' for your devices.
Just be aware that you will have to go through airport security (unless you find a spot in the Arrivals terminal) and there will be parking fees. Also think about whether you can handle the inevitable wanderlust.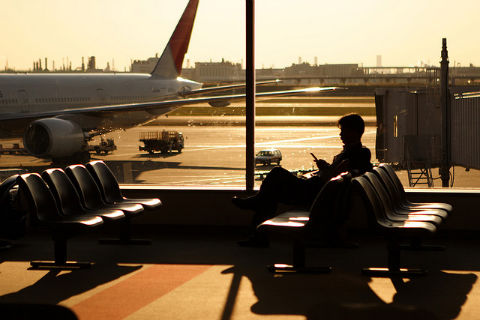 If all else fails: make some noise
If you need to escape from your desk but can't decide where to go or don't have the option of working offsite, listen to some focus-friendly music or use services like Coffitivity to simulate ambient noise. Scientists have found that exposure to moderate levels of ambient noise enhances performance on creative tasks, improves abstract processing and is generally good for cognitive function.
You don't have to invest in co-working space or go to great lengths to find a unique and practical place to be productive. Give these suggestions a go, and let us know if you've any other great alternatives to working at your desk we should know about.