Probably the only useful business lesson you can learn from watching The Apprentice is that a penny saved on purchasing is a penny earned in profits. This article describes how Turbine can help cut purchasing costs.
(Non-useful lessons from The Apprentice include: sucking up to the boss, back-stabbing, bullying, the art of BS, appearing to take responsibility while shifting the blame, giving 110% and stepping up to the plate at all times.)
There are many ways to overspend on purchasing:
Over-ordering
Keeping too much stock
Not negotiating
Not consolidating suppliers
Delegating too much authority
Ignoring budgets
Not checking receivables
Not checking invoices
Fraud
Inadequate paperwork
Too much paperwork
Wasting too much time on the whole process
Turbine can help with all these problems. Here's how.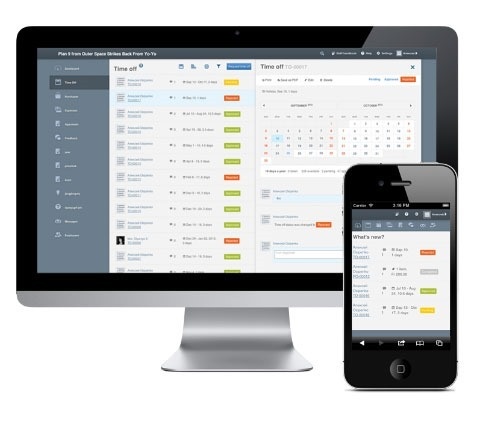 Order the right amount of stuff
Without proper controls, it's very tempting for staff to over-order and keep items on stock. It makes their life easier if they only have to go to the stock room or stationery cupboard and pull out what they need rather than go through the hassle of ordering something from a supplier.

However, large companies have perfected the art of just-in-time stock control. By letting suppliers hold stocks on their premises and on their books, a business can cut their costs considerably. To make this work, you need a system that makes it very easy to order what you need when you need it.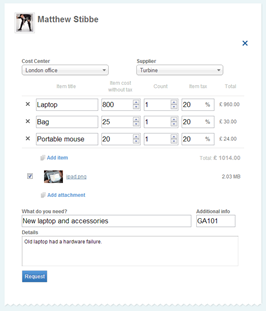 This is where Turbine can help. Any member of staff can complete a purchase order online or on their smart phone in a matter of minutes, and managers can review and approve them just as easily. Once a PO has been approved, you can forward it to the supplier by email as a formal order. This cuts the bureaucracy barrier to just-in-time stock control.
Better budgeting
Turbine includes a budgeting feature that lets you track spending against cost centres. This helps you stay on plan. Companies overspend one order at a time and budgeting gives employees and managers immediate warnings if a given request is going to take them over budget.
Consolidate suppliers
Turbine lets companies create a list of approved suppliers. Staff can select those suppliers from a drop down list on a purchase order request.

Although you can give staff the option of creating one-off suppliers, this level of control makes it easier to consolidate spending on chosen suppliers and, in doing so, negotiate better terms such as improved discounts or payment periods. For example, companies can use it to consolidate all their stationery purchases with a single supplier rather than letting staff buy items from the high street at much higher prices.
Negotiate with information
You'll get a better deal if you negotiate with information. For example, if you can say to a supplier 'we spent £20,000 with you last year but if we spent that with your competitor, we would get a 5 percent discount – can you match it?' you'll get a better response than just demanding a discount. Why? Because you're being clear about what you're offering in return.
Turbine lets you search POs by supplier and export them to Excel for detailed analysis. This will give you a clear idea of exactly what you're buying and who is supplying it.

Centralise purchasing and goods receivable
Turbine gives you the option of routing all your approved POs through a single company buyer. This means you can consolidate requests from different people into one order per supplier and also double-check that the goods are needed and are not available elsewhere in the organisation.
You can also centralise goods receivable so that you can check incoming orders and invoices against the original PO. Did you get what you ordered? Did the supplier meet the agreed terms? By centralising the actual ordering and receiving with Turbine, it's easier for companies to keep track of stock levels and avoid over-ordering.
Prevent fraud
Unfortunately, fraud can happen. For example, suppliers can give back-handers to staff for ordering goods that never arrive. Employees can pinch goods on arrival before they are logged into a stock control system. Or people can simply order items for their own personal use.
Turbine includes a series of controls to stop accidental or deliberate changes to requests. For example:
You can set up approval rules so that POs over a certain value must be approved by a manager.
Each PO has a unique serial number.
After a PO has been approved, employees cannot edit the quantities.
You have the option to stop employees creating new suppliers so they can only order from the company-approved list.
After a PO has been marked received, it is completely locked and archived.
Every request and state change is recorded with an audit trail so changes and deletions and logged.
Of course, employee vetting, good stock control and other processes are required to reduce the risk of fraud but Turbine's processes and controls can help a lot.
Take control of paperwork
Companies often overlook a big cost when it comes to purchasing: employee's time. The longer it takes to request, approve, receive, check and record a purchase order, the more the process costs. Especially when you multiply it by hundreds or thousands of requests each year.
Without Turbine, people waste time filling in forms, waiting for approvals, searching for PO numbers or order information etc. In fact, the Chartered Institute of Purchasing and Supply estimates that the true cost of raising a single PO could be £30-£50. Charles Dominick cites various US sources that put the cost of a purchase order at between $35 and a staggering $741 each. Even if it is just $5, a company can save a huge amount by using Turbine.
Instead of purchase order forms in triplicate or unwieldy, ad-hoc spreadsheets, Turbine has a friendly, easy-to-use web interface and a central database of all PO requests. There's no duplication, no papers to lose, less chance of making a mistake and no waiting.
Run your purchasing from the beach
Okay, perhaps this is more desirable than realistic. But we have hotels where managers use tablets to order things while making their rounds and trucking companies where drivers use smart phones to order parts while on the road. Many of our clients have multiple locations so Turbine lets them all share the same information without having to install any software or servers. I'm sure that a lot of our clients also use Turbine at home or on their commute to manage their requests.
All you need is a web browser and Turbine to get control of your purchasing. See our FAQ guide to setting up purchasing on Turbine for more information.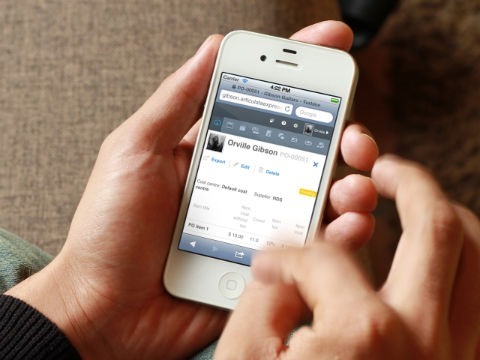 Cut costs , Purchase Orders , Savings , Small business , Turbine